No succession plan? With this free step-by-step guide, you can get "succession essentials" in place for your executive director position. And you can do it painlessly and with less than an hour's work in many cases. The guide includes:
Simple, step-by-step instructions to develop "the essentials," a board-adopted succession policy and a backup plan for your nonprofit's chief executive position.
Fill-in-the-blank templates for both documents. Just add your organization's information. We've done most of the work for you!
A companion video that walks you through the entire process.
What Succession Essentials will do for you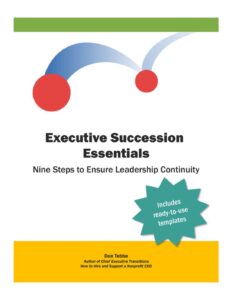 The succession policy will make sure that your board has a game plan for when your current executive director eventually decides to leave the position. (Two-thirds of nonprofit executive directors think their board doesn't know enough to choose the right successor.) Your board will be smarter about the executive director's job. Plus, they'll have a plan — they won't have to fumble around.
The backup plan ensures leadership continuity by making sure there's a cross-trained person to step in as acting executive director on a temporary basis if needed.
The process can strengthen your team and organization. Creating these two "good management" tools can break the ice on succession planning, which is still a touchy subject in far too many nonprofits. They can also help build organizational sustainability and capacity by opening a dialogue about the need to strengthen management bench depth, streamline the responsibilities of an overburdened executive director, and more.
The guide, the video, and the fill-in-the-blank templates are all completely free.
Protect and sustain the future of your nonprofit.