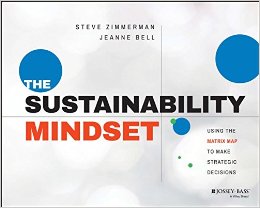 I pre-ordered this book as soon as I heard about it. I was expecting a sequel to Zimmerman and Bell's earlier book, Nonprofit Sustainability. But The Sustainability Mindset is actually a successor to that important, earlier work.
My first impression is awe at the authors' ability to pack so many rich ideas and useful tools into just 200 pages. Beyond the sage advice, I counted no less than 43 figures, 7 tables, 4 sample exhibits, 3 case studies and 23 templates.
The book walks you through a six-step sustainability planning process. As in their earlier work, the central tool of this book is the "matrix map," a 2-axis, 4-quadrant table that plots the dual bottom-line of a nonprofit: mission impact and financial viability. The idea is that the leadership team assesses the organization's programs and determines each program's "profitability" and mission impact. The results are plotted on the matrix map, using circles that are scaled according to each program's expenses. The composite map provides a comprehensive picture of the organization's business model. See the example below.