Are you a retirement-age nonprofit CEO?
Been putting off planning your exit?
You've worked hard to build a great organization. You've invested years, perhaps decades, of your professional life in building your nonprofit. Yes, you had help along the way, but this organization is a tribute to your leadership skills. It's a big part of your professional legacy. But will it endure after you leave the CEO job?
You know that you'll leave your role eventually. You see leadership turnover all around you. You know that every career ends in a transition. It's just a matter of when, how, and how well managed the transition is when it occurs.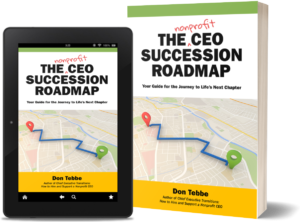 Plus, you're probably a hard act to follow. The longer you've been in place, or the more significant your impact on the organization, the harder you will be to succeed and the more challenges your successor will probably face. A transition of this magnitude requires serious preparation and a solid strategy.
You need to make plans, but where to begin? You need a game plan… to prepare yourself for what's next. To help your board give this crucial leadership change the attention it deserves. To ensure that your organization continues to flourish after you hand it off to your successor.
The Nonprofit CEO Succession Roadmap is your guide. Focused on exactly where you are — facing the journey through the last few years and months of your career — this is your guide to taking charge of your exit and moving through your three unique jobs as a leader-in-transition:
Prepare your organization — make sure your board, senior management team, and the organization overall are ready for the transition; manage communications (from telling your board to telling your community); and develop potential internal successors.
Prepare yourself — sort out your personal and professional readiness for what's next and discover the five success factors to flourish in post-career life.
Lead the organization through the transition — pilot the organization through this exceptional time in its history, support your board and team, and navigate the politics and emotions.
Get this guide and make the most of this milestone change
— for yourself and your organization.
---
From the award-winning author of
Chief Executive Transitions: How to Hire and Support a Nonprofit CEO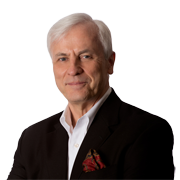 Don Tebbe is one of America's most experienced leadership succession consultants.
Serving over a decade as a chief executive and five-time interim CEO, he experienced first-hand the challenges of executive succession. Since founding his consulting practice in 1993, he has helped hundreds of nonprofit leaders plan for and manage turnover in their chief executive position.
Don was one of the national thought leaders asked by the Annie E. Casey Foundation in the early 2000s to develop better practices for nonprofit leadership succession. As part of this project, he helped design many of the tools, concepts, and practices used by nonprofit succession practitioners today.
Don has touched thousands of executives and board members through keynotes, workshops, and intensive retreats. He has been quoted by TIME.com, Monster.com, Stanford Social Innovation Review, WiserAdvisor, The Motley Fool, and newspapers across the country.
---
CONTENTS
Preface
The Departure Manifesto
Introduction
How To Use This Book
Part 1 – TAKE CHARGE OF YOUR EXIT
Every Executive Needs an Exit Strategy
Exploring Life's Next Chapter
Choosing Retirement
Getting Ready for Leadership Succession
Part 2 – UNDERSTAND THE PSYCHOLOGY OF TRANSITIONS
Understanding the Psychology of Transitions
Using Brain Science to Navigate the Transition
Exploring How Mindset Shapes Executive Departure Styles
Leaving Work That Feels Like a Calling
Part 3 – PREPARE YOUR ORGANIZATION
Ask These Big Questions First
The Sustaining Phase
The Transitioning Phase
The Onboarding & Support Phase
Getting the CEO Job Successor Ready
Preparing Internal Successors
Managing Succession Communications
Part 4 – PREPARE YOURSELF
Facing Life's Biggest Transition
Preparing Yourself Personally
Preparing Yourself Professionally
Designing Your Life's Next Chapter
Part 5 – LEAD THE ORGANIZATION THROUGH THE SUCCESSION PROCESS
Leading the Organization
Leaving the Organization
Epilogue
Notes
Acknowledgments
About the Author
Also by Don Tebbe